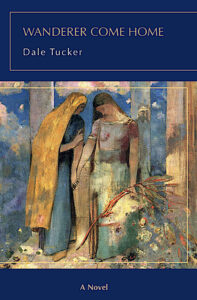 Hi Everyone,
I have received the print proof of Wanderer Come Home, my novel, and want to tell you about it.  First of all, the book is absolutely beautiful—exceeds my most optimistic hopes.  I highly recommend 48-Hour Books to anyone who may be thinking about self-publishing your work.  They are the printshop that printed this book and their staff were wonderful, professional, and easy to work with.
Not only is this book beautiful but it is also made of top-shelf materials and of superb quality construction and will be a pleasure to read for decades to come.  The inside paper is a 60# Bright White Offset paper that is thick enough and has a nice hand (feel) to ensure easy page-turning and a tactilely pleasurable experience (no stubbornly sticking together pages: I hate those!).  And it's a comfortable read because the typeface is large enough and the lines well spaced to prevent eye strain and the paper is bright but without glare.  The cover stock is a 10pt thickness (0.01 inches, which resists curling) with a Silk Laminate that gives the cover a satin finish.  (I chose this finish because it is my favorite on the perfect bound books in my bookcase).  The cover design and artwork are striking and attractive.  I would pick up this book myself in a book store just for the cover's sake alone—it features a gorgeous painting by Redon.
What else might I say about this book?  Oh yes!  It's well written and, at 672 pages, will take you speed-readers at least three nights to finish (I don't recommend speed-reading this book, btw).  It's not at all a predictable read and you might find its storyline somewhat unconventional.  But I can also say that you will never find yourself lost in the plot because the language and presentation of the subject matter is non-abstract—unlike many literary works I've come across lately.  What I, as the author hope, is that you will fall in love with the characters of Wanderer Come Home and be able to empathize with them as they grapple with the situations they encounter.  Plus there is a bit of metaphysics thrown in because—well—because it's interesting and part of everyday life, too.
By the way, you can read sample chapters of Wanderer Come Home by using the "CHAPTERS" link in the menu above.
Dale
NOTE:  The brand new print version, First Edition (autographed), of Wanderer Come Home retails for $25.00 USD.  It will be sold exclusively here, on this blog, so will not be available at the usual online book retailers.  I will be ordering small batches of the book at first so if you'd like to reserve your copy, please email me at: [email protected].  Also—soon, a professionally designed ebook of Wanderer will be available for $10.00 USD.  I will keep you informed as further details become available.  Thank you. — DT